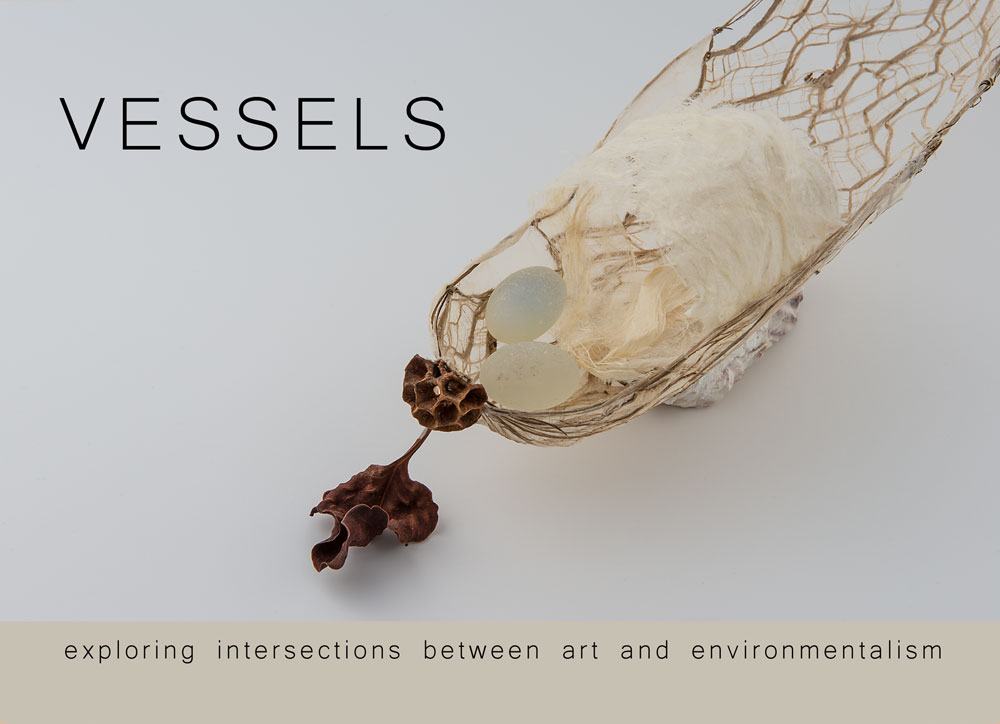 Vessels
May 23 – June 23, 2013
Opening Reception: Saturday June 1, 7:00-9:00 PM
Family Art Day: Sunday June 9, 1:00-3:00 PM
Panel Discussion: Saturday June 15, 2:00-4:00 PM
Juried by Lawrence Rinder, Director of the Berkeley Art Museum and Pacific Film Archive, Vessels is an exhibition that explores the intersection between art and environmentalism with the vessel archetype. The vessel concept is one of our earliest learned ideas. It helps us make sense of our world as we begin to understand the difference between self and others, between inside and out. Vessels move through our landscape, and move us through it. Vessels contain and transport. Vessels take us places we have never been and bring us things from far away. Humanity shares this vessel planet, which contains us, nurtures us, and protects us from emptiness. The vessel is especially poignant given the locale of Arts Benicia, which is situated between the water and the land and the air, inhabiting a liminal boundary zone with refineries on one side and wilderness on the other.
Vessels includes the work of thirty-nine artists. Selected artists include: Lisa Aksen, Bobbie Altman, Kahalla Bandy-Pasibe, Nikki Basch-Davis, Lou Bermingham, Marla Brill, Kari Brink, Nancy Brown, Sarah Brown, Ken Chew, Carol Dalton, Hedi Desuyo, John Edwards, Heidi Endemann, Anne Holsberry, Madeleine Ibrahim, Leslie Jensen, Lisa Jetonne, Sandra Kozak, Barbetta Lockart, Jan Long, Scott MacLeod, Susan Marcus Sachs, Elisabeth McKinne, Chris Meade, Elaine Nehm, John Roloff, Monique Rutherford, Margo Scarpulla, Diana Shore, Lee Wilder Snider, Thomas Eric Stanton, Phyllis Thelen, James Thomas, Larry Thomas, Sandy Fong Whetstone, Sue Wilson, Maya WindDancer, and Jean Yates.
Lawrence Rinder stated: "The artists who submitted their work for consideration for this exhibition approach the theme of "vessel" in a variety of ways. There are, of course, those who delve into the word's meaning as a container, jar, or amphora. Others gravitate to the image of a boat, in some cases in a form as prosaic as a canoe and in others in the profound sense of the spiritual ship that carries us all to the great beyond. Some artists interpreted the vessel as box, home, or plane. A few had no imagery at all but captured the sense of the vessel in terms of pure form, solely through arrangements of light and dark, color and shape. As an exhibition rooted in ecological awareness, it was important to me that all of these works, regardless of their explicit subject matter capture something that, to me, suggested the beauty and fragility of the world around us. Indeed many of these works express just such a feeling of delicate interconnection. My other criterion was artistic quality: I tried to select work that appeared to have the kind of visual strength and energy that made me want to keep looking."
Funding for this exhibition and its programs has been provided by the Valero-Good Neighbor Fund in association with Benicia's Community Sustainability Commission.
Photo by Michael VanAuken