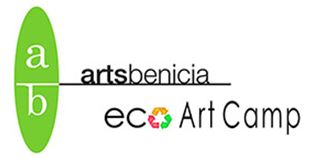 Arts Benicia's Summer Eco-Art Camp is looking for kids who want to stretch their imaginations and strengthen their creative potential. ​
Join in the fun! 
Led by professional teaching artists, the program offers hands on art projects focused on ecological themes including recycling and the environment. Lynn Zamarra and Amy Pollman utilize dynamic techniques to lead campers through eco-minded art projects using recycled materials. Through inquiry-based learning and the combination of traditional methods with contemporary materials, campers will explore and develop their creative potential.

Arts Benicia's Summer Eco-Art Camp will stimulate and nurture the creative expression of our next generation of conscientious artists. 
---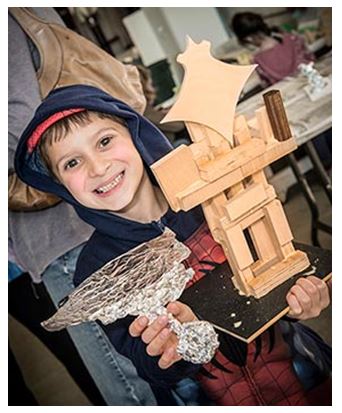 LOCATION:  Robert Semple Elementary

WEEK II: June 23 – 27
Magical Recycled Art! (Grades K-2) – Instructor Lynn Zamara (The K-2 Class is FULL)

Would your child like to create an imagined creature from egg cartons and wood scraps or use found objects to make a Nevelson-inspired sculpture? Young campers will use recycled materials to create vibrant, eco-friendly 2 and 3D art while they stretch their imaginations, strengthen their fine motor, social and problem-solving skills and have fun! The will work with developmentally-fitting tools and materials, explore the elements of art and principals of design and be introduced to dynamic learning approaches, such as Visual Thinking Strategies and Studio Habits of Mind. We'll focus on caring for the natural world, practice the three R's – reduce, reuse and recycle and consider the rich, diverse natural environment around us.
EcoArts 101 (Grades 3-5) – Instructor Amy Pollman
Kids will learn to see our earth and our environment through the lens of art-making. We will cross-reference history, culture and environmental education using a rich variety of interesting materials. Students will participate in such projects as: book-making, experimental weaving, dimensional landscape shadow boxes, and found object self-portraits. there will be lots of individualized instruction.
Puppet Show: Froggy to the Rescue by Caterpillar Puppets
Thursday June 26th
Instructor Bio's:
Amy Pollman:
Amy Pollman has been a passionate educator and artist for ever fifteen years. She has taught at museums, art centers, and schools of all levels nationwide and abroad. She believes in nurturing curiosity, encouraging exploration and allowing artistic discovery to serve as the motivational force of education. As the canon of modern art , processes, and explorative skill development can be an abstract process, Ms. Pollman's teaching bridges the gap between traditional method and experimental mediums. Among many projects broached at Eco-Art Camp, the courses will cross reference history, culture and environmental education with contemporary materials. Students will be participating in projects such as: bookmaking, experimental weaving, dimensional landscape shadow boxes, and even found object self-portraits!
Lynn Zamara
Lynn Zamara has a long history as a teaching artist, working with elementary, high school and college students, and training teachers in Best Practices of Arts Education. Her teaching approaches are rooted in Regiio Emilia and Harvard Project Zero's Teaching for Understanding. Lynn combines Inquiry-Based learning techniques and the Studio Habits of Mind to guide students through the explorative and creative processes. As an artist, Lynn works in mixed media. Visit Lynn's website handcrafted-design.com

GRADES: 
3– 5 (5th grade grads welcome!)
PRICE: 
$112 $56 per week with an Arts Benicia Family Membership

or
$125 $62 per week (without membership)

TIME: 9:30am – 12:00pm
ENROLLMENT:
Grades 3-5,
15 campers per class per week

Sign up! Register HERE.
A copy of this information can be found HERE.


Questions? Email leah@artsbencia.org
You may pay online, by phone, by mail, or in person at Arts Benicia. Mail or drop off your registration forms to: Arts Benicia – Eco-Art Camp, 991 Tyler St. #114, Benicia, CA 94510. Please make checks payable to Arts Benicia.
Arts Benicia's Summer Eco-Art Camp is made possible by a grant from
The Benicia Community Sustainability Commission.