2017 Classes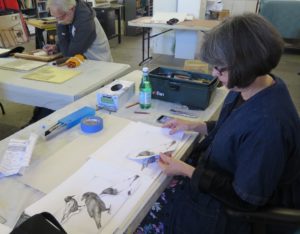 Printmaking Workshop
Ronna Leon
Mondays, ongoing 6-week sessions
9:00 am – 1:00 pm
$195 Non-members | $180
$55 Drop-in
Read more | Register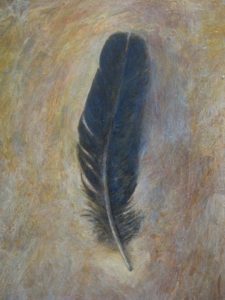 Open Painting
Larnie Fox
Six 2-hour classes
Session 1: Thursdays, July 13 – August 17
Session 2: Thursdays, September 28 – November 9, no class October 12.
$160 Non-members | $145 Members
Read more | Register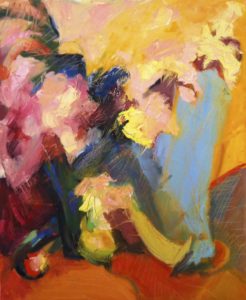 Expressive Painting Techniques
Louise Victor
Sunday, July 30
12:00 – 4:00 pm
$160 Non-members | $145
$10 materials fee
Read more | Register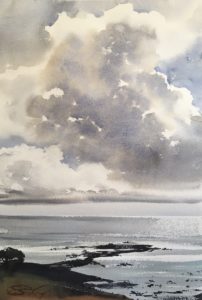 Loosening Up with Wet-into-Wet Clouds
Stephen Berry
Saturday & Sunday, August 12 & 13
9:00 – 4:00 pm
$195 Non-members | $180
Read more | Register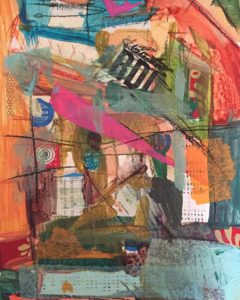 Abstract Method and Structure
Stephen Schumm
Saturday, September 9
1:00 – 5:00 pm
$100 Non-members | $85
Read more | Register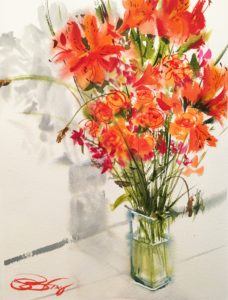 Loosening up with Wet-into-Wet Florals
Stephen Berry
Saturday & Sunday,  October 28 & 29
9:00 – 4:00 pm
$195 Non-members | $180
Read more | Register
[/one_fourth] [one_fourth]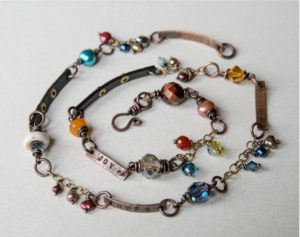 "Wrap Up Your Memories" Bracelet
Peg Jackson
Saturday, June 17
1:00 – 4:00 pm
$80 Non-members | $65
$15 Materials fee (payable to instructor in class)
Read More | Register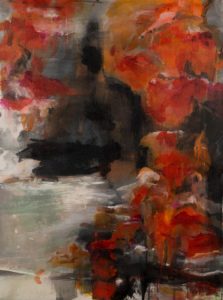 Abstract Painting & the Spirit in Nature
Diane Williams & Chuck Potter
Saturday, July 15
11:00 am – 5:00 pm
$110 Non-member | $95
Read more | Register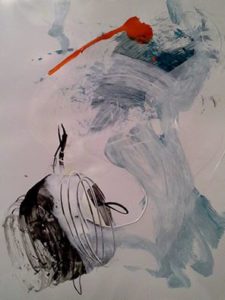 Mixed Media Workshops
Carl Heyward
Saturdays: August 5, October 21, December 9
12:00 – 4:00 pm
$180 Non-members | $165
3 workshop series: $450 Non-members | $375
$20 materials fee (payable to the instructor in class)
Read more | Register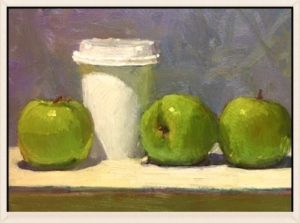 Fun Intro to Still Life
Randall Sexton
Saturday & Sunday, August 19 & 20
10:00 am – 4:00 pm
$240 Nonmembers | $225
Read more | Register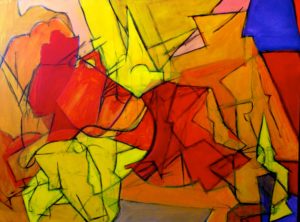 Still Life to Abstraction: Exploring Color
Louise Victor
Sunday, October 1
12:00 – 4:00 pm
$160 Non-members | $145
$10 materials fee (payable to instructor in class)
Read more | Register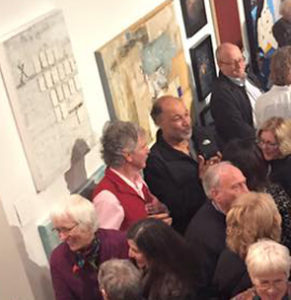 Professional Development
Energizing Your Art Career
Jeff Tover, Grace Teo, & TaVee McAllister Lee
Wednesday, October 25
6:30 – 8:30 pm
$40 Non-members | $25
Read more | Register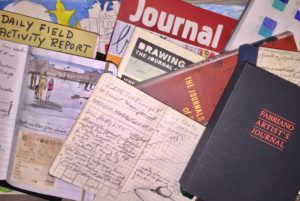 Journal Techniques and Tips 
Stephen Schumm
Saturday, November 11 & 18
1:00 – 4:00 pm
$140 Non-member | $125
Read more | Register
[/one_fourth] [one_fourth]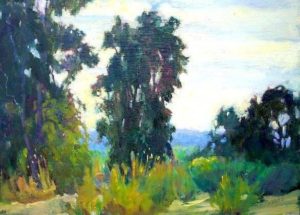 Summer Workshop
Nikki Basch Davis
Saturday, June 24th
10:00 a.m. – 2:.00 p.m.
Min 5 students | Max 15 students
$130 Non-members | $115
Read more | Register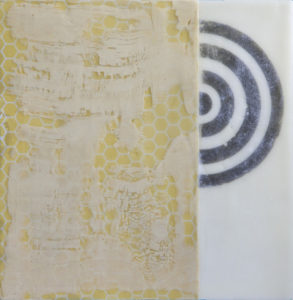 Encaustic Painting Workshop
Margot Hartford
Saturday, July 22
Sunday, October 15
Saturday, November 4
11:00 am – 4:00 pm
$130 Non-members | $115
$20 materials fee (payable to instructor in class)
Read more | Register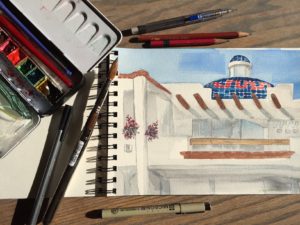 rban SketchinUg
Stephen Schumm
Sunday, August 6
1:00 – 4:00pm
$65 Non-members | $50
Read More | Register
♦
Social Media and You
Jeffrey Tover
Wednesday, August 23
6:30 – 8:30 pm
$40 Non-members | $25
Read more | Register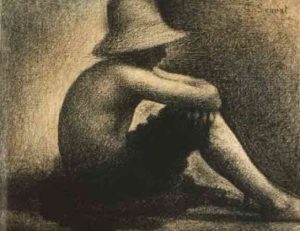 Life Drawing: In the Light
Louise Victor
Saturday, August 26
12:00 – 4:00 pm
$140 Non-members | $125
$25 model fee (payable to instructor in class)
Read more | Register
Imaginative Impressions
Nikki Basch Davis
Saturday, October 7
10:00 am – 4:00 pm
$125 Non-members | $110
Read more | Register
Abstract Painting with Pattern & Texture
Diane Williams & Chuck Potter
Saturday, October 28
11:00 am – 5:00 pm
$110 Non-member | $95
Read more | Register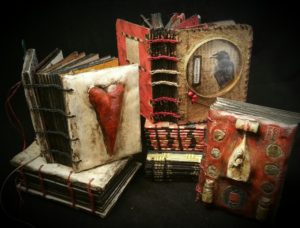 Between the Pages – The Coptic Stitch
Sharon Payne Bolton
Sunday, Nov. 19
9:00am – 5:00pm
$110 | $95
$25 materials fee, payable to instructor
Read more | Register
[/one_fourth] [one_fourth_last]
Class list
June
Printmaking Workshop – Leon
Mixed Media Workshop – Heyward
"Wrap Up Your Memories" Bracelet – Jackson
Summer Workshop – Basch-Davis
July
Printmaking Workshop-Leon
Open Painting – Fox
Abstract Painting & the Spirit in Nature – Williams/Potter
Encaustic Workshop – Hartford
Expressive Painting Techniques – Victor
August
Printmaking Workshop – Leon
Open Painting – Fox
Fun Intro to Still Life – Sexton
Mixed Media Workshop-Heyward
Urban Sketching – Schumm
Loosening up with Wet-into-Wet Clouds – Berry
Life Drawing: In the Light – Victor
September
Printmaking Workshop – Leon
Abstract Method & Structure – Schumm
Open Painting – Fox
Mixed Media Workshop – Heyward

October
Printmaking Workshop – Leon
Still Life to Abstraction: Exploring Color – Victor
Open Painting – Fox
Imaginative Impressions – Basch-Davis
Encaustic Workshop – Hartford
Mixed Media Workshop – Heyward
Energizing Your Art Career
Abstract Painting with Pattern & Texture – Williams/Potter
Loosening Up with Wet-into-Wet Florals – Berry
November
Printmaking Workshop – Leon
Open Painting – Fox
Encaustic Workshop – Hartford
Journal Techniques & Tips
Between the Pages – the Coptic Stitch
December
Mixed Media Workshop – Heyward
The mission of the Arts Benicia's Adult Education Program is to provide a learning environment for the exchange of ideas and information and to inspire the community to develop its creative potential.
Our community is very fortunate in having many professional studio artists who are also gifted teachers, and who have provided highly skilled instruction over the years in a caring, attentive classroom environment.
Classes are scheduled semiannually from January-June and July-December.
Arts Benicia members may take classes at a discounted price. To join Arts Benicia or to renew your membership, sign up online or call the office at 707-747-0131. For more information, contact us at info@artsbenicia.org
[/one_fourth_last]
[one_fourth]