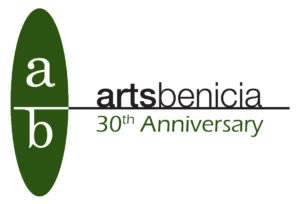 2017 marks Arts Benicia's 30th anniversary! Along with an opportunity for celebration, an anniversary milestone gives us an incentive for reflection of the past, assessment of the present, and visioning for the future of Arts Benicia. This year is brimming with exciting new cultural collaborations, including activities with Benicia Historical Museum, the Benicia Unified School District, City of Benicia Parks & Recreation, and the American Association of University Women/Vallejo-Benicia Chapter. We honor Arts Benicia's 30 years of commitment to the arts with a year of world-class exhibitions showcasing Benicia's rich artistic legacy and featuring the best from our local and regional artists' communities.
City of Benicia Proclamation: Elizabeth Patterson, Mayor of the City of Benicia – "On behalf of the City Council, I do hereby recognize the cultural value of Arts Benicia and the contributions it has made for 30 years in promoting and providing excellent art to the community. I encourage all residents to visit Arts Benicia to take advantage of the wonderful resources they provide."
~ February 7, 2017
Our Stories
Arts Benicia's first exhibiting artist and long-time Arsenal resident Mike Kendall has a special one man show during Benicia Artists Open Studios. Kendall's paintings and sculptures will be on view in the Arts Benicia gallery April 8 – May 7, 2017.
Inspired by the work of Hieronymous Bosch, H.R. Giger and surrealist artists, Kendall's artwork ranges from mixed media metal sculptures to large scale paintings.
Read more about Mike and his history here.
Benicia Herald articles about the formation of Benicia as an art town: © Vicki Dennis
1970's Benicia: An Artists' Haven Part I
1970's Benicia: An Artists' Haven Part II: 
Our Stories (from the early days, before Arts Benicia)
Interviews by Vicki Dennis
From A Troublesome Subject: The Art of Robert Arneson by Jonathon Fineberg, UC Press, 2013
In his self-portraits, Arneson challenged the "then current hierarchies about so-called advanced art.  First, there was the medium- no modern artist before him had established a major historical reputation in the art world working primarily in clay…..  Finally, Arneson had the temerity to make his career in the provincial town where he grew up, about as far from New York as one could go figuratively and physically without crossing an international frontier."
Kirk Arneson, Benicia resident and Robert Arneson's youngest son
Dad was a local boy, and he loved it here.  He'd work in the studio in the morning, then go down to Mabel's, a restaurant that used to be by the Old Capitol. He knew everybody in town, and he'd go there to meet people for lunch. He had a magnetic personality that just drew people to him, and he was very social.  Mabel was a real person, and he did a sketch of her that the restaurant hung over his favorite table.  He opened his studio often so people could see his work in progress, and he really supported Benicia High School, his old school, with donations of his work to help raise money, giving talks to the students, and inviting them to visit his studio. He took great pride in Benicia and felt a responsibility to give back to the community. 
Sally Babson, fabric artist, long-time Benicia resident
I lived on East E Street next door to Bob and Sandy Arneson, and they introduced me to Judy Chicago.  My first contact with Judy was designing and making outfits for her to wear to her openings of Dinner Party.  One thing led to another, and I started working with her on The Birth Project.  I don't think any of us knew how big this was going to turn out.  We started out in Judy's apartment, then we were down at Yuba for two years before she leased the space at 538 Tyler.  As her technical assistant, I organized getting the needlework from the multitude of women everywhere who worked on it.  I then prepared them for presentations and sent them to galleries across the country.  These days, I still have my shop on First Street, designing and making clothes.  But I'm also still working at 538 Tyler where I teach ballet.
Bruce Bradbury, founder of Bradbury and Bradbury Wall Art
I first came to Benicia in 1976 to learn how to make hand printed wallpaper at Wayne Carlson Wallpapers, which was located in the historic Camel Barns. Wayne was a wonderful and generous man. He gave me a key to his factory so that I could print my historic designs on nights and weekends. In 1981 he loaned me the money to open my own printing shop in the 940 Building which had been empty for years, but was being converted into artist studios. Money was really tight at the beginning. We were lucky to find a talented nineteen year old artist, Steve Bauer, who was so dedicated to Victorian design that he lived in the factory until we could scrape together enough money to allow him to get his own apartment. Happily, when I retired in 2005, Steve became the new owner of B&B. I'm originally from Maine, and from the very beginning the small town New England feel of Benicia made me feel at home. And rent in Benicia was very affordable, especially space in empty buildings in the Industrial Park. For struggling artists and craftspeople, affordability is always a primary issue. And there was no other place in the Bay Area that had that combination of affordability and charm.
Judy Chicago, artist and former Benicia resident, now living in New Mexico
I knew about Benicia, which was a really run down town then, because of my old friend Manuel Neri.  And I became close with the realtor Marleen Deane who found me housing above her office and provided me with many hours of companionship.  I also spent time running in the beautiful state park.  Building 57… provided space for the Birth Project which eventually involved over 150 needle workers from around America as well as Canada and as far away as New Zealand.  Many of them visited our building when Sally Babson, our needlework supervisor, and I reviewed the work in progress. One of the advantages of working with women was having great potlucks! My time in Benicia was marked by hard work, lots of fun, and hopefully a lasting impact as Birth Project is now permanently placed in institutions around the world, helping to accomplish our goal of introducing women's experiences into our cultural heritage.
Ann Corcoran, retired glassmaker, co-founder of Nourot Glass
Benicia then was a broken down, defunct town.  It was a mess.  There were broken down old buildings, no fishing pier, no lights.  Even in the mid-1970s, you would still see old madams taking tricks upstairs in some of the buildings.  Totally illegal, of course.   ….. For us, Benicia was where we made glass and sold glass.  We were promoting Benicia all the time, inviting visitors to come see us work at open houses that we would host three times a year.  We started calling Benicia 'Sausalito by the Bay' to promote ourselves.
Pam Dixon, artist and long-time Benicia resident
There were really good artists and craftsmen working and living here when my husband George and I moved to Benicia in 1970.  I worked with Jerry Goss, a sculptor, who built a foundry down by the Camel Barn casting bronze there in the early 70s. Ken McElroy was an important production potter who we talked into moving to Benicia.  He bought the building where Pups N Purz pet shop and Re/Max is now.  He lived upstairs and had his pottery shop downstairs.  …..We were all great friends….Ken, Bob and Sandra, Manuel, Sally Babson, the whole group.  Judy Chicago used to come and pound on our back door.  We were almost like kids, yelling come on out and get in trouble!  We did art shows together here in Benicia, Walnut Creek, all over. We would all gather for lunch at Roger Steck's restaurant in the Washington House.  We were a political force and outspoken. The businesses then in the Industrial Park didn't like us because we supported and worked for environmental issues. As artists, we had everything, cheap rent, friendships, a great community of artists.  We had it made.
Jackie DuBois, long-time Benicia resident
I moved to Benicia in 1971 and lived in what is thought to be California's first Treasury Building behind where Java Point is now. The town was just antique stores and bars.  Artists were just starting to get to town.  At that time, the only gallery in town was The Alamo which had been founded by Richard Morris in the late 60s; it's where Sailor Jack's is now.  In the mid-70s, Lee Champagne helped John Marsiac start a gallery called the Benicia Art Depot Museum at the end of First Street.  They called it the BAD Gallery.  They had a big show there in 1976 that had work by Roy de Forest, John La Francesco, William T. Wiley, Pam Dixon, Wayne Thiebaud and others.  It got a lot of attention because these artists were starting to make a name.  The BAD show was covered by Art Week.  That same year, Jean Lockhart, who was a batik artist, had a show at the Clock Tower that Manuel Neri hung for her. By that time, Benicia was starting to become known as a great place for artists.
Ken McElroy, Potter and Long-Time Resident of Benicia 
Ken McElroy, potter, Benicia resident until his death in 2002.  The following is from an article by Janice Holve published in 2006 in the Walnut Creek Clay Artists' Guild newsletter.  McElroy was instrumental in forming the Walnut Creek Civic Arts Education Program in the 1960s and created the Ken McElvoy Mural in Walnut Creek.
Kenneth Swan McElroy  "was an enthusiastic member of the Benicia arts community until blindness and overall poor health forced his retirement at 68 in 1998.  Ken died four years later from kidney failure.  Prior to that time, Ken had a shop on First Street for many years and was considered a local character.  Although he had a son who lives in Vermont, Ken considered the Benicia community and his coterie of ceramic artists as his local family.  Ken's public pieces include the holy water font at St. Paul's Episcopal Church in Benicia, but the [Walnut Creek] Civic Art's mural remains his largest public piece.  According to the Benicia News, Ken created his own funeral urn and wanted his epitaph to be 'Ken was a potter by the Bay, who made an urn out of clay.  The purpose was to stash the remains of his ash and leave it here to stay.'  Although his family ultimately decided to take his ashes back to the family plot in Ohio, Ken's legacy remains alive in the many memories of his Benicia friends who still tell Ken stories to this day."
Sandra Shannonhouse, sculptor and widow of Robert Arneson
Bob had always wanted to move back to Benicia.  In 1971, we decided to move from Davis.  We were ready to get off campus.  Bob had a studio on West E Street, not too far from where he grew up.  Our friend Roger Steck who owned several buildings in downtown suggested we think about buying on First Street.  At the time, there were boarded up buildings all over downtown, and space was cheap.  
The closing of the Arsenal had really hurt the town, but it was great for artists.  We do that, take over empty industrial buildings and start to use them for working and for living.  The building we eventually bought (now First Street Café had originally been a bar and bordello and was empty when we bought it.  Bob had his kiln out back and his studio downstairs where the Café is now. 
Bob told me that we could make a big difference in Benicia, and we did. Bob was a great supporter of humanist politics in town.  We were active in getting the library built, in electing Marilyn O'Rouke as mayor, in helping get live/work space established here.  In 1984, the mayor appointed me to chair the city's first Committee on Culture where we tackled important issues like developing live/work space for artists. We wanted to have the city realize and recognize how important the arts are, how much value the arts community brings to the local economy. Although Arts Benicia wasn't founded until later, the idea for an ongoing organization to focus on the arts in Benicia was one that the Committee on Culture very much supported.
Note: Arneson's Benicia Bench was commissioned by the city in 1990.  It can be seen at the Benicia Marina.  Shannonhouse's bronze sculpture, Dicta, was commissioned in 1992 for the Benicia Library and can be seen near the entrance.