Abstract Painting & the Spirit in Nature
Diane Williams & Chuck Potter
Saturday, July 15
11:00 am – 5:00 pm
$110 Non-members | $95 Members

Level: All Levels
Class size: Minimum 5 | Maximum 12
Location: I AN I Studio
991 Jackson Street (behind Arts Benicia)
CLASS DESCRIPTION:  Abstract painting is often misconstrued as an unrecognizable formatted style of painting where no standard rules of perspective, color theory, or composition exist as they do in other styles of painting and in artwork in general. Cited as the father of abstraction, Wassily Kandinsky (1886-1944), stressed that all of the standard rules mentioned above still existed, but abstraction incorporated the spiritual and emotional response to nature thus changing the perception of how an artist might represent that response.
Our experience and connection with our spiritual realm is augmented by our creative process in response to the nature that surrounds us. We view a mountain, sunset, or a creek and search deep into our emotional and spiritual response. We attempt to render all of the tangible and intangible sensations responding to paint and other materials as we lay them out and feel our way through the uncharted journey.
Venture with us into the realm of self expression by learning to harness energy and direct it onto the canvas. The results are alive, authentic and exhilarating. Unveil the mysteries of abstraction by practicing techniques in form, rhythm and motion. Each student will receive individual instruction and critique. We will be working on 3 canvases simultaneously.
SPECIAL NOTES: Students will need simple set of acrylic paints , brushes, and any collage materials they would like to use in addition to three stretched canvases, size minimum 24″ x 36″.
AGE MINIMUM: 18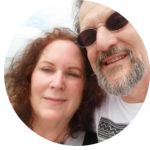 Chuck Potter and Diane Williams are two Benicia based artists whose studio is located in the Arsenal behind Arts Benicia. They received their MFA degrees in Arts and Consciousness Studies and studied techniques in Hangzhou, China. They have been teaching classes for more than ten years, including weeknight classes in their studio, Arts Benicia workshops, National University and Chabot College. They also run an annual summer art camp/retreat at their mountain studio near Quincy, CA. Chuck and Diane have a well established exhibition list and have received numerous awards.
Instructor website: http://ianistudio.weebly.com/
Instructor email: zioniani@yahoo.com