Abstract Painting with Pattern & Texture
Diane Williams & Chuck Potter
Saturday, October 28
11:00 am – 5:00 pm
$110 Non-members | $95
Level: All Levels
Class size: Minimum 5 | Maximum 12
Location: I AN I Studio
991 Jackson Street (behind Arts Benicia)
CLASS DESCRIPTION:  We will explore patterns as organizing structures that are repetitive in their consistency-the building blocks of nature.  Our focus will be on painting and collage techniques that use patterns as the foundation for creating abstract imagery. We will be using stencils, stamping, additive and subtractive processes, along with collage, that create texture both physically and visually.
See forms develop and disappear as patterns are layered over each other equating a universal concept of chaotic reorganization. Physics in our own universe exhibit similar visual displays of ever-changing quality.
Each student will receive individual instruction and critique. We will be working on 2-3 canvases simultaneously.
SPECIAL NOTES: Students will need simple set of acrylic paints , brushes, and any collage materials they would like to use in addition to three stretched canvases, size minimum 24″ x 36″.
AGE MINIMUM: 18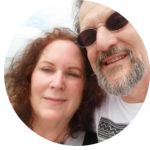 About the instructors: Chuck and Diane are two Benicia based artists whose studio is located in the Arsenal behind Arts Benicia. They received their MFA degrees in Arts and Consciousness Studies and studied techniques in Hangzhou, China. They have been teaching classes for more than ten years, including weeknight classes in their studio, Arts Benicia workshops, National University and Chabot College. They also run an annual summer art camp/retreat at their mountain studio near Quincy, CA. Chuck and Diane have a well established exhibition list and have received numerous awards.
Instructor website: http://ianistudio.weebly.com/
Instructor email: zioniani@yahoo.com