Exploring Printmaking with Ronna Leon
Mondays, 9am -1 pm
$180 members/$195 non-members/$55 drop-in
six class sessions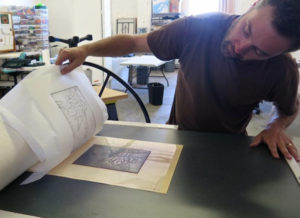 Location: Arts Benicia classroom
Printmakers have an opportunity to use the Arts Benicia printmaking facilities including both large and small presses to continue their exploration of printmaking in zinc plate etching, monotypes, collographs and planographic prints. The workshop is monitored by Ronna Leon who can provide direction and technique information. Demonstrations in Photo Transfer Techniques will be given to those interested in this session.
Email instructor ronnaleon@mac.com at if you have questions about this class.
Special notes:
 All levels, BEGINNERS WELCOME! Beginning students may choose to use teacher's materials; $20 materials fee paid directly to Ronna.
Experienced students may sign up for the six week session and complete the sessions within a 12 week period.
Come to a single class: drop in fee $55
Six 4 hour sessions
Minimum students 2 | Maximum 15
Figure Drawing Sessions – currently on hiatus
No instructor
If you are interested in Figure Drawing Sessions, please contact Arts Benicia at 707-747-0131.
ARTS BENICIA GALLERY
OPPORTUNITIES for ARTISTS