Creative Sketching Workshop
Stephen Schumm
Saturdays
One 3-hour session
January 6
February 3
March 10
April 7
May 12
June 9
1:00 – 4:00 pm
$65 Non-members | $50 Members
Tuition discount: sign up for 3 classes
$140 Non-members | $125 Members
Level: All levels. Teens are welcome and encouraged to participate. A limited number of partial scholarships for teens are available. Contact Arts Benicia at 707-747-0131 to register.
Location: Arts Benicia Classroom
Age minimum: none
Class description: Practice your sketching and try new techniques to broaden your range of styles and increase your skill level. We will do urban sketching outdoors when weather permits and sketch indoors at a variety of locations. Each class meets once a month.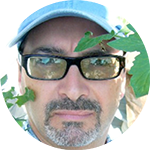 About the instructor: Stephen Schumm worked exclusively in leaded stained glass for the last 14 years. He currently works in watercolor, collage, and acrylic on canvas.
Website: https://www.stephendanielschumm.com/
Email: sdschumm@gmail.com