Dare to be Wild! Going Beyond the Grid to Enliven Your Art
Suzanne Jacquot
Saturday & Sunday, March 3 & 4
11:00 am – 4:00 pm
$315 Non-member | $300 Members
$40 Materials fee, payable to instructor in class
Level: All levels
Age minimum: Adults
Class size: Minimum 5 | Maximum 10
Location: Arts Benicia Classroom
Class description:  This two-day abstract art acrylic workshop is about understanding and challenging the grid structure, a very basic form of abstract art. Through exercises we will start with the familiar grid and push the boundaries, going beyond to discover new ways to enliven the image and make it your own. We will do several exercises to give you new techniques and ideas. We will make our own collage papers through easy monotype techniques and put together amazing collages that will be ready to frame.
There will be plenty of time to create your own art works. This workshop is a great chance to create, rebel and break though into wild creativity. No experience necessary.  Come join a great group of like-minded artists for a fun learning weekend of Creating, Connecting and Community.  Acrylics, mixed media, monotype, collage.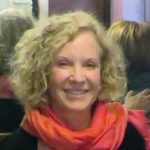 About the instructor: Suzanne Jacquot earned a BFA at UC Berkeley in psychology and design, an MFA from Mills College in sculpture and photography, and an Art Therapy Certificate from Sonoma State University. She has shown her work in various galleries and museums throughout the Bay Area, has taught privately and in groups for several years and currently teaches Abstract Art at Marin Museum of Contemporary Art, in her own studio in Santa Rosa, and online.
Website: www.SuzanneJacquotArt.com
www.LivingYourWildCreativity.com
Email: ljsjacquot@gmail.com