Inside the Box
Sharon Payne Bolton
Saturday, March 24
10:00 am – 4:00 pm
$110 Non-members | $95 Members
$25 materials fee, payable to the instructor
Location: Sharon's Studio behind Arts Benicia on Jackson Street.
Levels: All levels
Age minimum: 18+ yrs.
Class Description: Construct and create two Art Boxes and then incorporate found objects to create an Artist Book Box.  Box will be made using a version of "drop-spine" method. Inside the box you will create your own vignette, fill it with a memory, your favorite word, or possibly a personal item for your remembrance.  This workshop has been designed so that there will be no measuring!
Instructor will supply all the (pre-cut) materials and tools, including a pamphlet with instructions for later.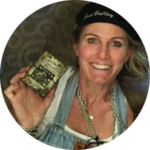 Sharon Payne Bolton is a mixed-media artist with studios in Benicia and Sun Valley, Idaho.
She is a Core Art Educator for " Art is … You" mixed-media art retreats.