Journal Techniques and Tips
Stephen Schumm
Saturdays, November 11 & 18
1:00 – 4:00 pm
$140 Non-member | $125 Members

Level: All levels
Age minimum: appropriate for ages 16 years and up. Teens are welcome and encouraged to participate. A limited number of partial scholarships for teens are available. Contact Arts Benicia at 707-747-0131 for more information.
Class size: Minimum 4 | Maximum 8
Location: Arts Benicia Classroom
Class description:  Learn about the many forms of visual journaling. Daily Activity Log, Diary, Scrapbook, or Travelog – the journal can be many fun things. This class will get you going with the tools and techniques that are right for you. You will get a good head start working on your journal in class. A materials list will be emailed to students before class.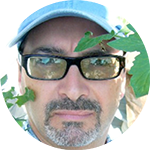 About the instructor: Stephen Schumm worked exclusively in leaded stained glass for the last 14 years. He currently works in watercolor, collage, and acrylic on canvas.
Website: https://www.stephendanielschumm.com/
Email: sdschumm@gmail.com