Painting the Upside Down
Louise Victor
Saturday, April 28
1:00 – 4:00 pm
$79 Teens only
Class Size: Minimum 2 | Maximum 10
Level: All levels
Location: Arts Benicia classroom
Age minimum: Teens (16 yrs.+). A limited number of partial scholarships are available. Contact Arts Benicia at 707-747-0131 to register.
Class description: The world around us is like an awesome still life, full of mysterious and strange things. Through art we can learn to see in different ways and transform what we see. We create alternate realities on our canvas; abstractions made with paint and paintbrushes. Join us!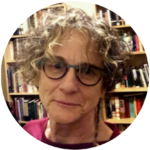 About the instructor:  Louise Victor has maintained
a vibrant art practice while also lecturing and teaching
drawing, painting, and the aesthetics of art. She 
received a BFA from Northern Illinois University.
Instructor website: www.louisevictor.com
Instructor email: victorml@yahoo.com