Structure, Composition, and the Wonders of Underpainting
Louise Victor
Saturday, June 16
1:00 – 4:00 pm
$160 Non-members | $145 Members
Class Size: Minimum 2 | Maximum 10
Level: All levels
Location: Arts Benicia classroom
Age minimum: Adults and teens (16 yrs. +). Teens must register by calling Arts Benicia at 707-747-0131.
Class description: Join us in building a painting from the ground up. We will begin with a solid structure. From there we will look at the do's and don't's of composition and create a solid, dynamic starting point for our painting. Working from our studies, we will use under-painting to give the painting a buoyant, lively beginning. Not only does the under-painting provide valuable guidance to the finished work, but, often, these are accomplished works of art in themselves.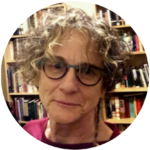 About the instructor:  Louise Victor has maintained a vibrant art practice while also lecturing and teaching
drawing, painting, and the aesthetics of art. She a received a BFA from Northern Illinois University.
Instructor website: www.louisevictor.com
Instructor email: victorml@yahoo.com