Altered Landscapes, July 17 – Spetember 11, 2014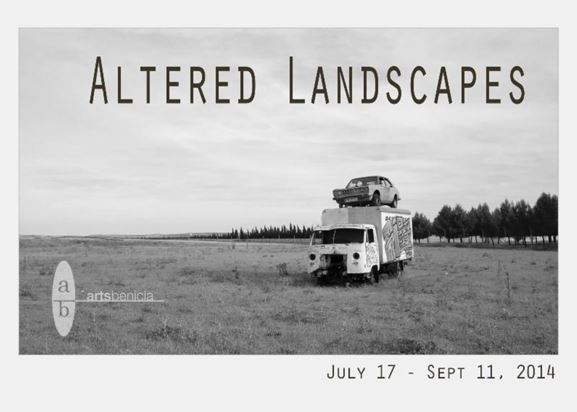 Altered Landscapes
July 17 – September 11, 2014
Activities at the Arts Benicia gallery in conjunction with the exhibit:
Opening reception: July 19, 7:00-9:00 pm
Family Art Day: Sunday, August 10, 1-3 pm
Artists/Enviromental Panel Discussion: Saturday, August 23, 1-3 pm
Participating Artists:
Sharon Allicotti, Nikki Basch-Davis, Paul Behling, Paula Boas, Frederick J. Brashear Jr., Henry Bridges, Craig Britton, Nancy Brown, Jules A. Campbell, Gary Cullen, Catherine Daley, Carol Dalton, Heidi Desuyo, Mark Eanes, Ferdinanda Florence, Anja Foerschner, Dan Gottwald, Linda Grebmeier, Jim Haynes, Madeline Ibrahim, Cynthia Jensen, Renee Marie Jordan, Mike Kendall, Johanna, Kidd, Sandra Summerfield Kozak, Diane Krevsky, Phyllis Lasche, Carol Levin, Kassandra Mattie, Robin Mayoff, TaVee McAllister Lee, Elizabeth Mckinne, Lani Mein, Tony Natsoulas, Monica Ortega, Mar Pandone, Leslie Philpot, Chris Ridler, Anthony Riggs, Ruth Santee, Marilyn Schaeffer, Elia Schiavo, Stephen Schumm, Bob Seidman, William Selig, Mar W. Shaw, Jeff Snell, Lee Wilder Snider, Thomas Eric Stanton, Ronnie Stelling, Lila Strong, Mary Stupp-Greer, Pearl Jones Tranter, Michael Van Auken, Mark Van Norman, John Weaver, Cate Whittemore, June Yokell
Altered Landscapes is a juried exhibition planned for July 17 – August 17, 2014. It is supported by a major grant from the Community Sustainability Commission to raise awareness about environmental realities and provoke a dialogue aimed at creating a sustainable future for our community. The exhibition will showcase the artist's response to our changing environment through traditional landscape techniques or through more immediate, conceptual approaches. This is art that departs from idealized notions of scenic beauty and pristine wilderness that were dominant in the early 20th century. We want to show work that depicts altered states of the natural landscape and documents the artist's response. It will reveal the undefined lines between nature and industry, the gaps and secret places between natural and mediated spaces. We want to raise concerns over the scale, tempo and irreversibility of environmental change. We intend to avoid artwork that is superficial or propagandistic. The exhibit will bring the viewer into an awareness of how human activity and constructed environments have altered the landscape both internally and externally.

Altered Landscapes will ultimately celebrate the natural resilience inherent in our world, which is there to be nourished and encouraged.
Juror: Phil Linhares, Chief Curator of the Oakland Museum of California, 1990-2011.
About the Juror:
After 21 years at the Oakland Museum of California, Phil Linhares retired from his position as Chief Curator in June, 2011. Previously, Linhares worked as the Director of the Mills College Art Gallery (1978-1990), Director of the Graduate Program at the California College of Fine Arts (1980-1988), and Director of Exhibitions for the San Francisco Fine Arts Institute (1967-1977). Phil Linhares received his BFA and MFA from the California College of Fine Arts (CCA), and attended the Museum Management Institute at the University of California, Berkeley. Phil has more than forty years of experience working in the field, and dedicated his time to supporting the arts by serving as a trustee and board member to various organizations, including the Claire Falkenstein Foundation of Los Angeles, and the Black Rocks Art Foundation of San Francisco.
Funding:

Funding is through Benicia Community Sustainability Commission to communicate realities about our shared Earth and its limited resources. The arts reach people in deep and meaningful ways that traditional modes of education and promotion cannot. Artists often address environmental concerns in their work through choice of materials and narrative content. Arts Benicia has a proud history of addressing environmental concerns with its exhibitions.