Arts Benicia Presents The Beauty of Water exhibition
Benicia City Council
April 24 – July 24, 2017
Mary Shaw & Celeste Smeland, Co-curators
Artists' reception, Thursday, May 25, 6:30 – 7:30 pm
Participating Artists: Nikki Basch Davis, Grace Cohen, Catherine Fasciato, Betsy Kendall, Sandra Summerfield Kozak, Robert Schwiebert, Alice M. Stern, Gregory Vasgerdsian, Thomas Wojak.
"All water has a perfect memory and is forever trying to get back to where it was"                                            – Toni Morrison
We began planning this exhibition a year ago – when California was nearing its sixth drought year.  The idea of water was more about a sense of deprivation, than abundance. Now, after a year of above average rainfall we can once again experience the beauty of water through lush green hills, full lakes and rivers, and snow capped mountains. And while Governor Brown declared that the drought is officially over, our memories still hold visions of parched landscapes, wildlife dying of thirst and dry riverbeds. It is in keeping these memories that we can more deeply respect the preciousness of water, its power and fragility, and its beauty.
The Beauty of Water exhibition is supported by grants from the Community Sustainability Commission and the Benicia Arts and Culture Commission. We are grateful for their generous support.
Receptions at City Hall are supported by the Benicia Arts and Culture Commission.
Benicia City Hall
250 East L Street
Benicia, CA
Arts Benicia Presents Toby Tover at Gallery 261First
April 24 – July 24, 2017
Works on display draw from Tover's series of mixed media collages which use imported Japanese paper and acrylic paint on wood panels or canvas. Her work draws inspiration from travels to Asia and the far East. "My artwork is a process of inner discovery through an exploration of texture, form, color and light. I have always had a particular interest in building layers – their tactile surfaces suggest infinite possibilities." ~ Toby Tover
The Gallery at 216 First is located at Estey Real Estate
Like us on Facebook! 216 1st Street, Benicia
Olson Realty, Inc.
April 17 – July 17, 2017
Artist's reception: May 19, 6:00 – 8:00 pm
Marty Jonas uses cloth, thread, felt as well as repurposed industrial materials to create abstract and figurative wall art, mosaics, collages, and sculptures.
"The tactile quality of fiber and thread, combined with surface design techniques, provide me with the opportunity to speak visually, that which, I cannot express in words. Fiber is an extension of my voice."  ~
Marty Jonas
Olson Realty, Inc.
920 First Street, Suite 101
Benicia, CA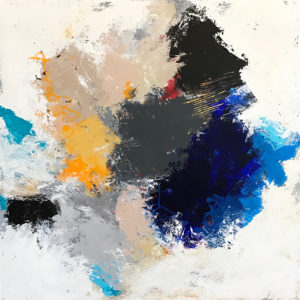 Jeffrey Tover
The Rellik Tavern
April 3 – July 10, 2017
Opening reception: Thursday, April 6, 6 – 9 pm
Diane Williams, Curator
Arts Benicia presents Precious Oddities, the abstract paintings of Jeffrey Tover. Tover's works, primarily acrylics, are dominated by organic shapes, lines, and vibrant color.
"My approach to the development of a painting differs every time I begin a piece of work. The environment I'm in, the music I hear, the emotions I'm feeling, and whatever might be inspiring me at that moment become a part of the end result."  
~ Jeffrey Tover
The Rellik Tavern
726 1st Street
Benicia, CA
§
2017 Arts Benicia Presents Exhibitions
The Rellik Tavern: Diane Williams, Curator
Carl Heyward, January 9 – April 3
Jeffrey Tover, April 3 – July 10
Erika Sean Hoffe, July 10 – October 2
Jerry McLaughlin, October 2 – January 8, 2018
Olson Realty, Inc.: Grace Teo, Curator
Louise Victor, January 16 – April 17
Marty Jonas, April 17 – July 17
Janet Bogardus, July 17 – October 16
Hedi B. Desuyo, October 16 – January 15, 2018
Benicia City Council Chambers, Celeste Smeland & Mary Shaw, Co-curators
Pearl Jones Tranter, January 23 – April 24 (curated by Grace Teo)
The Beauty of Water – Group Exhibition, April 24 – July 24
Madeline Ibrahim, July 24 – October 23
Joe Garcia, October 23 – January 22, 2018
Gallery 216First at Estey Real Estate, Carol Dalton, Curator
Toby Tover, April 24 – July 24, 2017
TBD July 24 – October 23, 2017
TBD October 23 – January 22, 2018
About Arts Benicia Presents
Arts Benicia Presents is an adjunct, outreach program of Arts Benicia. Through this program, Arts Benicia hosts twelve member artist solo exhibitions per year. Exhibitions are juried by the Arts Benicia Presents Committee. Exhibitions are located in three Benicia venues: The Rellik Tavern, Olson Realty, Inc., and Benicia City Council Chambers.
To participate as an artist in Arts Benicia Presents, you must be a member of Arts Benicia.
For more information, email mary@artsbenicia.org