JOIN ARTS BENICIA!
New members sign up HERE   |   Existing members renew your membership HERE
Members sustain Arts Benicia and make it possible to continue our 30+-year history of enriching our community through the visual arts. Your membership supports a wide variety of rich arts programming that includes classes for children and adults, Family Art Days, a full calendar of exhibitions in our gallery and local businesses, Benicia Artists Open Studios in May, and much more.
Membership dues are tax-deductible and are good for one year.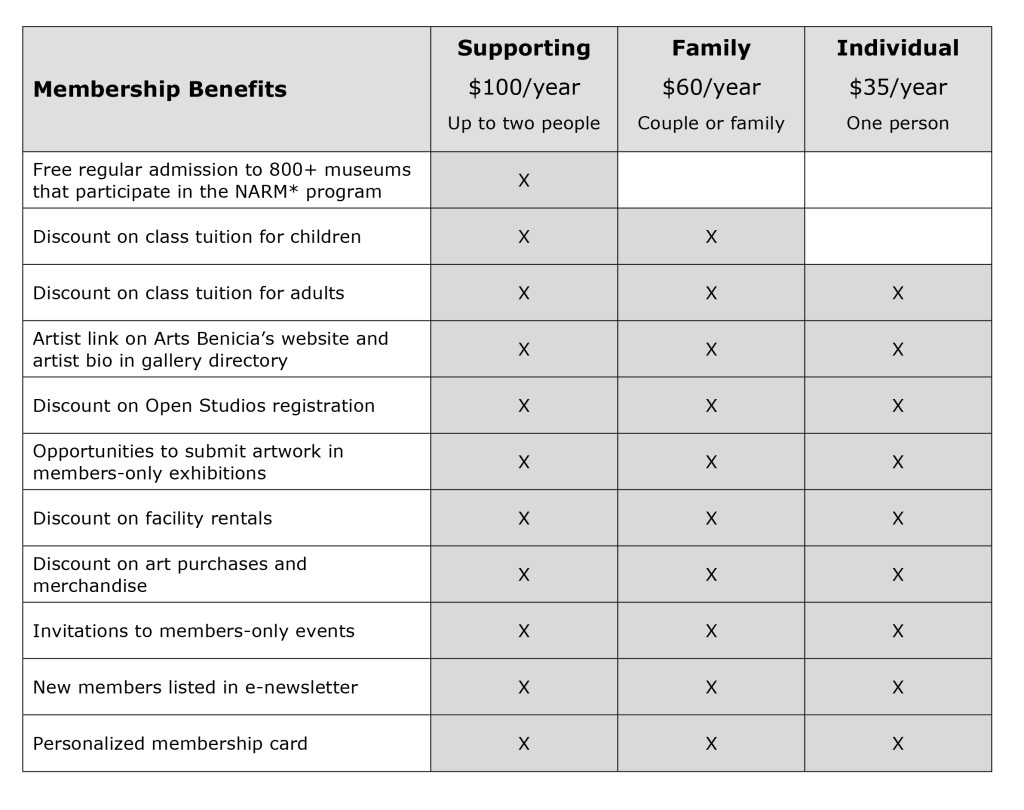 *NARM: Provides access to more than 900 participating NARM institutions across the U.S., Canada, and Mexico. For a full listing of participating institutions, go to: North American Reciprocal Museum (NARM) Association
Details about Membership Benefits

North American Reciprocal Museum (NARM) program: A qualifying sticker on Supporting level membership cards allows members to receive regular admission to over 900 institutions participating in NARM.
Class tuition discounts: Family and Supporting members receive a discount on class tuition for children: Arts Benicia After School (ABAS), Summer EcoArt Camp, and the Teen Art Program (TAP). All members receive a 10% discount on class tuition for adults. Member prices are listed in the class schedule.
Invitations to members-only events:  Examples of members-only events include VIP receptions, exhibition previews with advance sales of exhibited art, curator and juror walk-throughs, panel discussions, and member round-tables.
Artist link on Arts Benicia's website and artist statement and bio in gallery directory:  Member artist biography, statement, and resume may be kept on file in the gallery and an artist website link will be listed on Arts Benicia's website.
Discount on Open Studios registration:  All members receive a discount on Benicia Artists Open Studios registration.
Opportunities to submit artwork in members-only exhibitions:  All artist members may submit entries to the annual gallery exhibition The Art of a Community and have the opportunity to submit work for jury to Arts Benicia Presents, an adjunct outreach exhibition program at one of three Benicia venues, The Rellik Tavern, Olson realty, Inc., and Benicia City Council Chambers.
Discount on facility rentals: All members receive a discount on facility rental (Arts Benicia Gallery and Studio Classroom). Only members who have paid dues for one calendar year are eligible for this discount.
Discount on art purchases and merchandise: All members receive a discount on art purchases at the Arts Benicia gallery as well as Arts Benicia Presents exhibitions. This discount include merchandise when available (e.g. books, wine and beer logo glasses, and prints).
New members listed in Arts Benicia's e-newsletter: New members are recognized and welcomed in Currents, our monthly newsletter.
Personalized membership card: All members receive a personalized, laminated Arts Benicia membership card.
 New members sign up HERE   |   Existing members renew your membership HERE