Benicia Artists Open Studios- May 4th and 5th, 2013
---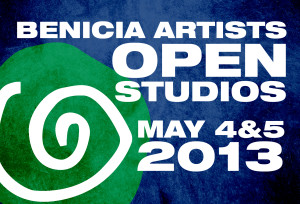 Each year the community of artists and artisans in the City of Benicia welcome visitors to experience an Open Studios event the first weekend of May. This year the Open Studios event will take place Saturday and Sunday, May 4th and 5th, 10:00 am – 5:00 pm. This is a unique opportunity to meet artists in their studios and live/works spaces to see new and exciting works of art. More than 70 studios will be open to the public for those two days, as visitors are afforded a rare opportunity to talk personally with artists whose work they admire and to see their favorite – or soon-to-be favorite – artists at work.
Family Art Day: Sunday, April 21 from 1:00-3:00 PM

To get a glimpse of the Open Studios experience, check out this video from the Benicia Artists Open Studios 2012.
Arts Benicia Open Studios – May 2012 from Colin Pattison
---
Open Studios are May 4th and 5th, 2013
Mosaic Project from Open Studios 2012: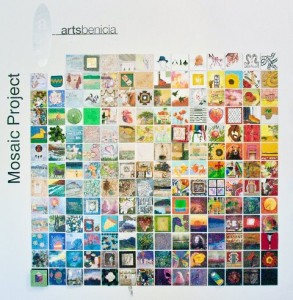 Open Studios Maps, 2013: Arsenal Map, Downtown Benicia Map
Open Studios video, 2012: VIDEO
Open Studios 2012: INFORMATION
Open Studios 2011: INFORMATION
Open Studios Maps, 2011: MAP 1 ~ MAP 2
Photos from Open Studios 2010: PHOTOS
---
Mosaic Project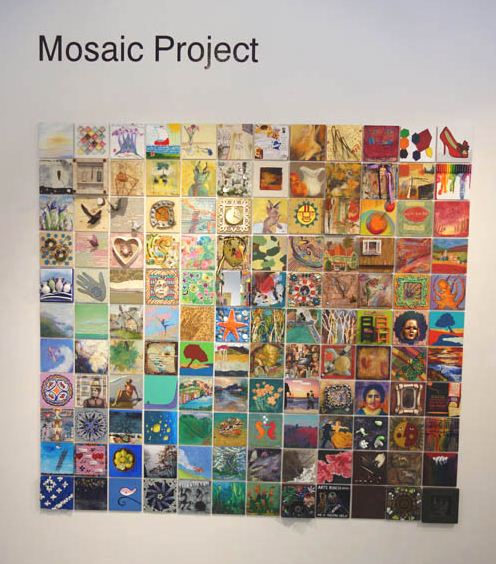 Now in its third year at Arts Benicia, the Mosaic Project is a blend of a community art project and organizational fundraiser. Members of the community were invited to design 7 x 7″ art panels, which were generously donated by Ruszel Woodworks. The panels were installed in our gallery to create a gorgeous large scale "mosaic", which was featured in the Benicia Artists Open Studios preview exhibition. Every panel is a unique work of art. Many are by very accomplished artists, some are from talented amateurs. Each was available for purchase for $25 and sold by raffle. Not knowing which work of art would be received added to the excitement. The Mosaic Project engages our community in the process of making art, and results in original art that is affordable and accessible for everyone. Sales benefit Arts Benicia and support our ongoing programs and community-based services.
At the end of Open Studios on Sunday, May 5 at 4:00 PM, raffle ticket sales at $25 will end. At that point, panels will start coming off the walls to be sent home to all of their new owners. Any panels that have not been purchased via the raffle will be available on a first- come first-served basis for $45 starting at 5:00 PM on May 5. Any panels that are leftover at the end of the evening will go to purchasers of raffle tickets, by order of purchase. Purchased panels that are not retrieved May 5 will be available for pick up Tuesday, May 7 between 4:00-8:00 PM.
We are astounded by the outpouring of support and talent from our community, and hope you will join all of the Mosaic Project artists in supporting Arts Benicia by purchasing your raffle ticket today.
---
Open Studios 2013 Artists
May 4 & 5, 2013
10:00-5:00 PM
Brad Adams / Woodturning
3820 C Industrial Way
The majority of my pieces are created from local trees that have succumbed to wind, disease, or urban expansion. I derive a great amount of pleasure from making things of beauty out of material that was destined for the landfill or the fireplace. I find working with wood analogous to working with people. Each piece of wood is unique, and quite frequently has a mind of it's own. It's sometimes a challenge to find and expose the inner beauty, but it is an enjoyable and rewarding process.Growing up on a farm in Northern Illinois, raised by depression era parents, the idea of ever becoming an artist had never crossed my mind. Now, after careers in fisheries biology and computer networking, I find myself a full time artist. I took up woodturning in 1999 and it has since become my passion and my addiction.
Avanti Photography / Photography
932 Grant Street
Richard Bartlebaugh / Mixed Media
940 Tyler Street Studio 26A
Benicia Plein Air Gallery / Plein Air Painting
307 First Street
Benicia Plein Air is a cooperative gallery of 13 local artists who paint in the french outdoor tradition called plein air. The gallery features both mature and emerging artists, creating a fresh and eclectic mix of engaging and natural work. The artists find inspiration in the dynamic beauty of the bay area's diverse landscapes and often paint together as part of Benicia Plein Air Painters aka "Da Group". Gallery artists will be painting around the gallery and Benicia during Open Studios.
Randy Bernard / Sculpture, Wood
1066 Jackson Street
Brigitte Bize / Painting, Mixed Media
938 Tyler Street #201
Sharon Payne Bolton / Mixed Media
935 Jackson Street
To create art is a privilege and I'm thankful to have that privilege. My mind is always creating even if I'm not using my hands. Some of my pieces are designed unconsciously while I'm asleep, some just show up one day. If my art has purpose a lot of the time it is hidden. In that hidden purpose I find my inspiration. My art's message to the viewer? Usually it's hidden too; Implied rather than explained. I love to surprise myself and most of the time my art surprises me. Continuing to refine my art and expand my knowledge of the world of creation of art are my main goals for the future. When the viewer looks at my art, I want them to see something unique, something they've never seen before, something undiscovered, yet, possibly vaguely familiar. I would hope that my art gives the viewer space to allow for their own interpretation.
Paula Boas / Mixed Media
Studio 201, 938 Tyler Bldg
Boas' abstract paintings are rooted in architectural and natural landscapes and their respective geometric and organic forms. Additionally, she is interested in the visual effects of using text and script as line, shape or pattern. Her lyrical works evolve as she reveals, obscure and re-expose layers of paint, script, graphite, and paper to create subtle yet complex surfaces. Boas starts with an idea or color sense, but then improvisation takes over and the paintings move in new and sometimes unexpected directions. The forms that emerge are clarified and reduced until a delicate balance and quietude are achieved.
Kari Brinck / Mixed Media
940 Tyler Street Studio #11
Janet Brock / Painting & Watercolor
991 Tyler Street #216
My palette usually consists of blue, yellows, sienna and crimson. Although I feel no obligation to stick to these palettes and I can change my mind any day. I keep my decisions and choices to a minimum.
Jennyann Carthern / Drawing, Painting
973 Lincoln St.

As an Artist, Illustrator, and Teaching Artist. My work often settles around what I'm interested in at the moment, or what I happen to stumble upon. I've always been interested in telling stories, and capturing frozen moments through my work. Those could be moments of solace, moments of clumsiness, or just a moment of beauty. As I'm working I'm always looking for a connection with whatever person or subject it is that I'm creating. I'm most interested in the stories of people, animals, nature, and spirit. My work isn't always serious, I love to have fun! I've been practicing, studying, and creating art, since grade school. A life longer! Yes! My journey has taken me to receive a certificate from the Academy of Art, and to earn a BFA in Illustration from the California College of the Arts. I've also been a Teaching Artist, sharing my love of art with the youth of Solano County and the Bay Area for over 10 years in local Nonprofits and After School Programs, teaching Visual Arts, Theater, Stop Motion Animation, Game Design, and Garden Arts. Art has always been something that I could never walk away from. It's intrinsic to my character, my being, and to the people and youth I help to discover their creative talent, however they've taught me a lot about my own talents as well.They've been my best teachers.I'm currently working on a series of Pen & Ink Drawing on paper. Where it takes me however, I don't know yet.The message in my work, usually arrives whenever it chooses to be finished. That's when I gauge when it's done, and take a step back to discover it's true story.
Kay Hamre Collins / Watercolor
280 Semple Crossing
I love to paint on site. I can capture the colors and mood of the scene when painting right there on location. Later when painting in my studio, the wonderful memories and feelings return that made the subject special. When I travel I carry a backpack with an entire set up to paint at a moments notice. To capture inspiration, I always have a camera ready. Throughout the world, I find that art connects me with people of all nationalities and ages. Few can resist a peak at an artist at work. A conversation always begins.
Jane Yuen Corich / Painting, Printmaking, Textiles, Mixed Media
Mark Eanes / Painting, Drawing & Mixed Media
991 Tyler Street #214
John Ebersole / Sculpture

My works connect with some of the earliest art impulses of humankind.
Christina Finnie / Mixed Media, Painting, Printmaking
938 Tyler St #203
My work seems to be about place. Since my favorite source of inspiration comes from travel, my camera has become my sketch boo. I take my inspiration to my studio for further investigation, experimentation and reconfiguration.
Nancy Freeman / Painting, Mosaics
940 Tyler St. #26
Gallery 621 / Painting, Photography, Printmaking, Sculpture, Gallery
621 First Street
Gallery 621 showcases Benicia, California, as a contemporary center of working and exhibiting artists, and a community of arts advocacy. The gallery is dedicated to increasing public awareness of, interest in, and education about contemporary art within the community of Benicia and the greater San Francisco Bay area. Gallery 621 is a co-operative gallery featuring contemporary artists working in a variety of media including painting, printmaking, sculpture, and photography.
Judi Morales Gibson / Steampunk
940 Tyler Street, Unit 16
I make original Steampunk styles out of Upcycled and repurposed materials like tablecloths, curtains, pre-owned clothing, old luggage, antiques and found objects. I truly believe in recycling so I avoid using new materials. The Steampunk genre is a fictional mash of Victorian, Wild West, Steam power, Science Fiction and Alternate History.
Bea Guttman / Painting
940 Tyler Street Studio #11
My paintings are abstract and rooted in both geometric and organic forms. My love of nature plays a great influence in my paintings as well as the great masters Garky, Matise and Kandinksy. My paintings are representational, not realistic, Each work begins with an unusual thought or image. The paintings then develop through the painting process.
Dijana Harding / Drawing, Painting, Watercolor, Sculpture
Studio 203 938 Tyler Building
Hip Chick Designs/ Painting
946 D Tyler St
I am passionate about living life to the fullest and because life is so rich and full I have an never ending supply of inspiration. Through my art I employ vintage material – because it honors life past and cherishes the importance of history – and reinterpret it to the modern day, in order to take something discarded and bring it back to life. The color and depth of paint, the way it moves on the canvas, watching something come alive because I am making it: all these things are my motivation for producing art and dealing with the challenges it presents.
Erika Hoffe / Painting

955 Jackson St
Art advances communication by introducing expressions that don't find their way into words. Through painting I express nonverbal conceptions.The images are fairly clear to me before I paint them. Through a succession of very deliberate aesthetic choices, I develop a painting that I can already see but would not attempt to explain. My attention is engaged by the interplay between biomorphic and geometric forms. Isolated, softly defined, and obscure elements emerge from an incomprehensible space. Lines then frame and support these forms to fix them on the canvas. I rely on linear structure to lend clarity, stability, and distinction to these images. Ultimately I would hope to add something beautiful and gently provocative to a visual discourse. These are my quiet statements in a noisy world.
Terry C. Hughes / Painting
991 Tyler Street #216
Beginning 12 years in a weekly sketching class, then into plein air painting around Benicia, and now with my own studio. I'm painting larger pieces with oils using the palette knife. Currenlt I've done over 30 African animals in an impressionistic style with vivid colors.
Nancy Post Hunter / Illustration, Painting
Mike Kendall / Jewelry, Mixed Media, Painting, Sculpture
933 Jackson Street
I have been a Benicia Arsenal Studio Artist for nearly 20 years. I never seem to tire of allowing the public to enter my studio and interact with the creative energy that makes the life of an artist all I really desire. I look forward to showing and discussing new work with the viewing public and the new friendships and collectors.
Jacalyn Kildare / Mixed Media
990 Grant Street
Jeanne Lamosse / Drawing, Painting, Pastel
940 Tyler Studio #9
Color is the inspiration and driving force of Lamosse's work. Although the majority of her work has been rooted in abstraction for most of her career, her newest work is about her fourteen year old dog Allegro, who passed away two and a half years ago. Although painted in violet, green or intense vermilion oil on large canvases her beloved Italian Greyhound is clearly identifiable running into the light or standing in an abstract space. These nine paintings will be seen for the first time at the 2013 Open Studio. Other abstract large-scale paintings and drawings will be available for viewing.
Belinda Lang / Painting, Pastel
I have been an artist for forty years. I have had training in painting (acrylic, oils, watercolor) and jewelry making. I have an AA in Illustration and Design and have had extensive training in architecture and ceramics. I enjoy nature and am inspired by the colors that keep changing. I am thrilled to be a part of a vibrant community with Arts Benicia.
Lindsay Art Glass / Glass
109 East F St.
Fire, combined with natural elements, allows David Lindsay to orchestrate the extraordinary art of glass making. His fascination with color, texture, and form, has kept him on a thirty year quest for excellence in design and craftsmanship.
Sargamo Lipton/ Painting
925 Jackson Street
Biganess Livingstone / Drawing, Mixed Media
991 Tyler Street #216
Sergio Lobato / Painting
940 Tyler St. Studio #3
I am relatively new to the Benicia Arsenal Park Studios. For over 20 years I've worked as a commercial artist ranging from political cartoonist to art directing in large digital art firms. Last April I've made the plunge to becoming a full time painter. I found this studio space about a year ago and I love it. The town of Benicia is beautiful. All the artist and business owners at the Arsenal Park are so nice and friendly. They all made me feel really welcome. Although the bulk of my work can be described as meat still life studies, I feel they are more explorations in abstract realism. I think the theme of meat is a long neglected subject matter. Although painters such as Rembrandt , Sutine and Francis Bacon have explored this topic, it's surprises me how a taboo it still is.I enthusiastically invite visitors to enjoy and give me their impressions of my work.
Michael Marcus / Fused Dichroic Glass
940 Tyler Street #9A
My work is reflective of my love for shapes, color and texture and is heavily influenced by extended travels through Asia and the South Pacific. I am particularly drawn to the brilliant hues of tropical sunsets reflected on large expanses of water; the subtle beauty of intricately terraced rice paddies; and the serenity of lilies and lotuses juxtaposed against ancient sacred sites. Dichroic glass is an excellent medium to capture light, color and depth. My newest work leverages the dynamic nature of the glass with inspired design.
Susan Marcus Sachs / Mixed Media, Painting
940 Tyler Street #9A
Layers, textures, color, depth, …these are the components of my paintings. I am influenced by yoga, the ocean,Kauai,Mexico,India and the intricacies of nature. Starting with a textured canvas I apply multiple layers of washes and apply handmade papers. My work is process driven- and spontaneous- I paint with my hands,brushes and cardboard to achieve depth and mystery.
Elizabeth McKinne / Drawing, Painting, Mixed Media
940 Tyler Street Studio 1A

An early background as a dancer and my visceral experience of movement and gesture has influenced my work as a visual artist. I chase the ephemeral — the fleeting moment, kinetic memory, and the space between. I pursue tenuous spatial balances and relationships and examine, fracture, and reassemble images to reflect new metamorphic states. I use translations of nature to create a language of metaphor.
Joseph Mele / Drawing, Mixed Media, Painting, Printmaking, Sculpture, Wood
991 Tyler St., Studio 206
I've been doing open studios for fifteen years and appreciate the opportunity to invite you into my studio. Many patrons have returned year after year to see my latest work. You're welcome to visit my large and open workspace where I display works of various size and media, including minis. Primarily figurative and textural, many of the pieces are very affordable. I'll also have some installations to show the playfulness inherent in displaying my work. I'm excited to present quite a few new pieces in my Shield Series as well. Please check out my website and come visit my studio; more information about my upcoming exhibitions is available by clicking the news link on my website.
Connie Millholland / Painting
991 Tyler Street #216
Susan Mitchell / Mixed Media
991 Tyler St #208
Krystyna Mleczko / Drawing, Mixed Media, Painting, Printmaking
940 Tyler Street Studio 26A
Morse Studios / Mixed Media, Painting, Wood
941 Jackson Street
Ebba Navas / Jewelry, Painting, Pastel
991 Tyler Street, Suite 216
While having a strong background in all media, Navas' current art work is in the media of jewelry.
Jennifer Negrete / Painting
990 Grant Street
Alicia Noguiero / Mixed Media, Painting

Alicia Nogueira is an entrepreneur, artist, and filmmaker. Born in Brazil, she moved to California to study Film & Video at CalArts and the San Francisco Art Institute, where she received her BFA in 1988. In San Francisco, she worked in the industry and pursued her video art and multimedia sculptures, developing several solo art exhibits. Her early work is represented in the film and video archives of UC Berkeley and MIT. In 1993, Alicia moved to Telluride where she founded BaliDog.com, a yoga clothing company featuring hand-painted designs. Mother of Olivia, now 16 years old, Alicia teaches Iyengar yoga and is a certified massage & Watsu therapist. With the premiere of her latest film, "Woodsy," at the 2010 Telluride MountainFilm Festival, Nogueira reconnects with the film community pursuing a lifelong dream of creating films that expand consciousness and connect us to a higher purpose
Nourot Glass / Glass
675 East H Street
We enjoy introducing people to glass making and glass collecting. Our motto is get as close as you dare. Open Studios is a chance to get a glimpse into the life of an artist. What looks like a 'lifestyle' is actually a challenging livelihood. Few people get to work with passion and conviction like artists do so it's fun to share that at Open Studios.
Kathy Oja / Painting
940 Tyler Street Studio 26A
Marcia Parker / Glass Beads
990 Grant Street
With Heart Works Beads I craft beautiful handmade lampwork glass beads.
Anne Petty / Painting
940 Tyler Street 9A

Still Life's were my first painting images, which I am still drawn to. I pick objects I am attracted to in some intuitive way. My paintings usually contain food, flowers and/or containers. They are the ordinary objects of daily life and in a painting become metaphors for people, places, events that are important to me. Or they represent dreams and longing. These simple objects reveal something new in each painting and are always fascinating to me. Color also plays an important role in my choices. I am not always clear if I have chosen the color or it has chosen me. Color represents nourishment to me as much as the fruits or other foods I represent. I am inspired by Bonnard, Matisse, Cezanne, Gauquin and Morandi. I appreciate the atmospheric interiors of Bonnard. Matisse's flat color planes and the joyousness evident in his paintings inspire me. Cezanne's obsession with apples leads me to paint fruits and these shapes become my obsession also. The simple objects of Morandi and the negative spaces interacting with them are another influence. As I move toward more abstraction, I study the flattened shapes of Gauguin with their brilliant flashes of color.
Chuck Potter / Painting
991 Jackson Street
Painting provides me a vehicle to explore those experiences beyond what I can comprehend at the time. I often feel I can reach into the past and touch my ancestors or even others. Time seems to melt present, past, and future. I am left with a dilemma of coping with adventures of the ancients and ventures of the present day. So I use raw unrefined canvas and knife out a base of paint and grout, an ancient sort of plaster using present day materials. Working quickly, I press the paint and ink, as in a fresco, so the symbols can embed into the base I prepared and record an event. That event is often unknown, yet familiar like a recurring dream or forgotten memory, and maybe a story for another time. Perhaps others in a community can sense the same. It is in that connection where we come together and form a new urban tribe.
Alexandra Powers / Sculpture, Mixed Media
238 1st Street
Robert Quarrick / Glass
991 Tyler Street #220
Robert Quarrick has been working with kilnformed glass for over 35 years. All of his pieces are one of a kind.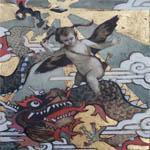 Anthony Wayne Riggs / Painting, Drawing & Collage
933 Jackson St
Each painting is a journey into undiscovered country. By appropriating and combining historical and mass media images, my work explores the subjectivity of meaning. The goal is to negate objective meaning and create endless subjective interpretations. Through the confusion of images that populate my canvases there is a cathartic moment where my own voice is apparent and I've created not meaning but possibility. I've rescued these forgotten and dormant images from the garbage heap of mass media culture and given them new life as bizarre characters in an never ending tragi-comic drama. When approaching a critical mass, the images start to polarize. A giant stag beetle – which might be read as science meddling with nature – joins forces with a displaced triceratops and an ominous rainbow to battle the symbols of man and his creations – tragic zeppelins, ineffective cowboys and flower spewing artillery.Exploring the role of images in a society that has developed a cynical distance and disbelief in them, my paintings are an epic revision of historical meaning presented in a pseudo religious hypnotic iconography—the snare of beauty that promises hope and clarity and delivers only the absurd.
Marilyn Schaeffer / Photography
941 Grant Street Suite C
Arts Benicia Presents: Marilyn Schaeffer at BAIC Multimedia. On view is a series of gelatin silver print photographs in tandem with a select number of colored digital prints. This series of work documents sights and scenes in Benicia, capturing an overview of the city.Marilyn Schaeffer is a retired criminal defense investigator who has resided in Benicia since 1981. She is a graduate of the University of Denver with a Bachelor's degree in Sociology with an Art minor. In addition to her coursework at the University of Denver, Schaeffer has taken photography classes at Diablo Valley College in Concord and Solano Community College in Fairfield. She has also attended workshops at the Ansel Adams School in Yosemite and Aspen, Colorado.
Stephen Schumm / Glass, Painting, Watercolor
940 Tyler #1
Mary Shaw / Drawing, Painting, Mixed Media
940 Tyler #26
Mary Shaw, known sometimes by her alter ego, Rowland Knox, is a figurative artist. Trained under the mythical tutelage of printmaker Professor Beauvais Lyons, director of the Hokes Archives and painting and drawing master Thomas Riesing, Shaw likes to craft her own stories for the viewer to decipher. Shaw graduated with a BFA from the University of Tennessee in Knoxville. She left the Southeastern US seeking to escape religious persecution and social suffocation. Art degree in hand, Shaw saw prospects ranging from sewing gingham shirts in a hard labor work camp to sweeping up after revival meetings and hitchhiked west to find another way. Shaw's work, as one might expect, examines religious persecution and social suffocation, particularly concerning women. Her work primarily focuses on the awkward moment and points of discomfort. Shaw is the owner of Shawtecs Fine Art Installation, www.shawtecs.com .
Lynda Silva / Painting
158 East D street
Doug Simon / Painting
1301 West K Street
When I'm painting I feel focused and spontaneous at the same time in a way that is so liberating, my spirit is free and time stands still. This mystical quality in the creative process is unlike any other life experience I've had. I enjoy building gradual layers of color and texture to make the surface palpable.
Smyers Glass / Glass, Jewelry
675 East H Street
Smyers Glass was the first glass studio to locate to Benicia in 1971.Fresh from college, Stephen Smyers began his career in a dilapidated warehouse in the abandoned Yuba Manufacturing site. Today his award-winning work is included in the collections of the Corning Museum of Glass, the Smithsonian Institution and White House among others. His glass is collected and used by celebrities, royalty, and people who are passionate about fine craft.
Russell Spitler / Glass
186 West H Street
What little sanity I possess today, having practiced law for thirty years, is in great measure due to the joyful pursuit of my artistic endeavor in stained glass.
Thomas Eric Stanton / Drawing, Mixed Media, Painting, Watercolor
933 Jackson Street
Arthur Stern / Architectural Glass, Painting, Sculpture
1075 Jackson Street
Judith S. Sullivan/ Multimedia Painter
280 Semple Crossing

Through the years, painting and writing have provided a voice for exploring and sharing what is meaningful to me with others. Both disciplines are integral to my way of being. They are often combined in handmade books on topics of interest. Nature scenes, visionary and personal experiences are my muses. I enjoy experimenting with various mediums and techniques for the different effects they offer and frequently work from an impressionistic perspective. Instruction from occasional art classes and workshops have been enhanced by participating in teacher-led art trips here and abroad. These excursions have broadened my horizons and have enriched my joy of painting through opportunities to be immersed in different cultures and unique locales with kindred spirits. Intimate vignettes of these journeys have been integrated by interpreting them through art. Creativity is food for my soul. Nothing makes me happier than being cocooned "in the zone" when the inspirational juices are flowing. Artwork made from this state is meditation in action.
Erika Von Zoog / Glass
991 Tyler St #113
Tym Warren / Painting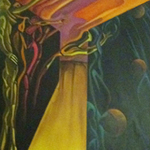 Tym began his study of art in Advanced Placement Honors courses in high school. His first professional showing was at San Jacinto Community College in San Jacinto, California when he was just 17 years old. He continued his training in oil and acrylic paintings at DeAnza and Foothill Colleges in Cupertino and Los Alto, California. He was concurrently enrolled at San Jose State University where he studied ceramics and bronze casting. Tym merged his artistic talents with technology and completed his Bachelor of Arts Degree in Computer Visual Imaging at Cogswell Polytechnical College in Santa Clara, California. He continues to work and show throughout Northern California. Tym states "creating art is and has always been my true love. It is a form of meditation that allows me to communicate with my soul. My emotions, thoughts and ideas are represented within a visual language that captures my spiritual and visual journey through life. During the development of this visual language that captures my spiritual and visual journey through life. During the development of this visual language one concept leads to another and eventually becomes a narration of my life as told through symbols and color. Through surrealism I explore my subconscious. My paintings are informed by the voices of spirituality. Expressions of passion during this exploration are informed by, and joined to, a greater power than my own. Sensations of peace and tranquility expand and create visions that reflect existence here on earth and, at the same time, life among the stars. Creativity is a vessel filled from a greater source. During the creative process, when body, mind and heart are in harmony with this source, I revel in the magical rhythm of life. This cadence is also present in my brush. My works contain the energy of many elements captured visually during the evolution of each piece. Surreal and abstract expressionism are the genres I use for emotional expression, to document my perceptions and record my growth.
Diane Williams / Painting
991 Jackson Street
Jean Yates / Mixed Media, Sculpture
302 Bridgeview Ct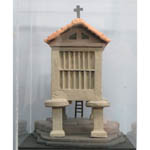 The beautiful forms often found in indigenous architecture have been an inspiration for many years of my earlier work in clay. The ability of people to create structures and dwellings so completely compatible with the environment with only the materials at hand an probably with the use of the simplest of tools, is most impressive, and then add their unusual sensitivity to form as expressed in their subtly tapered walls and pleasing proportions makes their effort worthy of a second look. These simple and unimposing structures reach an elegance of form that compares with any of that of modern man with all his knowledge and modern technology. Color, if used at all, is often limited to white or those earth tones available from the near-by soils. There are no frills and every element of these structures seems to be born out of pure necessity, and consequently about as pure as one can get. But now, as the clay is laid aside, this body of work is my second look. Perhaps you too, as a viewer, can understand and begin to share my admiration of these forms.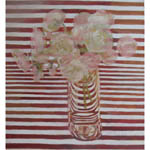 Sabina Yates / Drawing, Painting
302 Bridgeview Ct
My joy in painting and drawing is the experience of seeing and knowing more about everything around me. My own little world: Benicia landscapes, garden flowers and farmer's market treasures.
Scott Zoog / Glass
991 Tyler St #113