Open Studios 2012 April 19 – May 6, 2012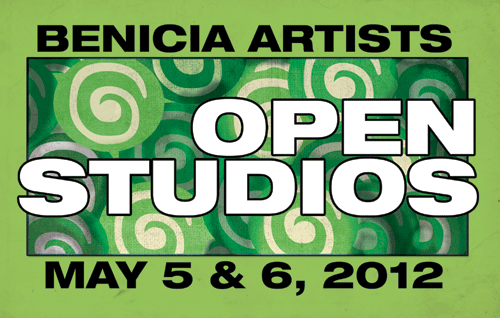 .
Benicia Artists Open Studios
Preview Exhibition on View April 19- May 6, 2012
"Art for Everyone…the Ah-Ha Moment" Lecture Series by the American Association of Univeristy Women: Saturday, April 21, 2:00-5:00 PM
Family Art Day: Sunday April 22, 1:00-3:00 PM
Open Studios: Saturday and Sunday May 5 & 6, 10:00-5:00 PM
Each year the community of artists and artisans in the City of Benicia welcome visitors to experience an Open Studios event the first weekend of May. This year the Open Studios event will take place Saturday and Sunday, May 5 and 6. This is a unique opportunity to meet artists in their studios and live/works spaces to see new and exciting works of art. More than 50 studios will be open to the public for those two days, as visitors are afforded a rare opportunity to talk personally with artists whose work they admire and to see their favorite – or soon-to-be favorite – artists at work.
Start your Open Studios weekend at the Arts Benicia Gallery at 991 Tyler Street #114; pick up a map, check out the participating artists and plan your day!
Participating Artists include:
Avanti Photography, the Benicia Plein Air Gallery, Brad Adams, Richard Bartlebaugh, Brigitte Bize, Paula Boas, Sharon Payne Bolton, Kari Brinck, Janet Brock, Carin Coleridge, Alexandra Connor, John Ebersole, Christie Ferrell, Nancy Freeman, Pam Adams Frey, Christina Finnie, Gallery 621, Bea Guttman, Dijana Harding, Hip Chick Designs, Linda Hubbard, Terry C. Hughes, Peg Jackson, Marty Jonas, John Jonas, Mike Kendall, Jeanne Lamosse, Belinda Lang, Michal Lehman, Lindsay Art Glass, Sargamo Lipton, Steve Mainini, Joseph Mele, Susan Mitchell, Kystyna Mleczko, Montclaire Skincare, Morse Studios, Jennifer Negrete, Nourot Glass Studio, Kathy Oja, Les Overlock, David Peck, Anne Petty, Chuck Potter, Robert Quarrick, Tony Riggs, Marilyn Schaeffer, Stephen Schumm, Doug Simon, Smyers Glass Studio, Russell Spitler, Thomas Eric Stanton, Arthur Stern, Toby Tover-Krein, Diane Williams, Sabina Yates
In conjunction with Open Studios, Arts Benicia is hosting the Mosaic Project. Now in its second year at Arts Benicia, the Mosaic Project is an amalgam of a community outreach project and organizational fundraiser. Members of the community were invited to design 6 x 6" art panels, which were generously donated by Ruszel Woodworks; each tile will be installed to create a large scale "mosaic" in the Arts Benicia gallery during the Open Studios group exhibition. Every panel is a unique work of art, and each is available for purchase for $25. Patrons are invited to purchase panels by raffle; not knowing which original work of art they will receive only adds to the excitement. To conclude Open Studios on May 6 at 5:00 PM there will be a public raffle drawing for each of the panels. The Mosaic Project engages the entire community in the process of making art, and results in original art that is affordable and accessible for everyone.