Evolution of Style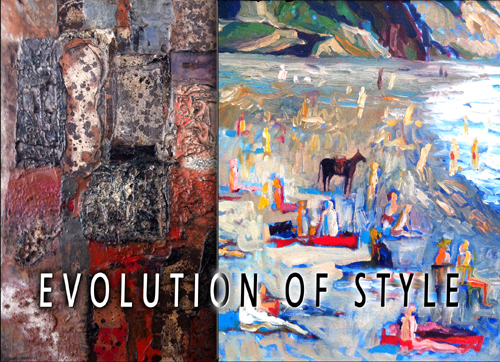 Evolution of Style
October 17 – November 17, 2013
Opening Reception: Saturday October 19, 7:00-9:00 PM
Artist Talk: Saturday November 2, 1:00-3:00 PM
Family Art Day: Sunday November 3, 1:00-3:00 PM
Evolution of Style explores the shifting sensibilities and forces that inspired pivotal points in the careers of twelve well-known Bay Area artists. Currently at the pinnacle of their careers, these artists are exhibiting work that represents their changing styles and perceptions over time.
Included in the exhibit are artists Chester Arnold, Peter William Brown, Linda Christiansen, Nikki Basch Davis, John Goodman, Dennis Hare, Raymond Jackson, Connie Kirk, Judy Molyneux, William Rushton, and Terry St. John, as well as the work of influential artist Lundy Siegriest, who passed away in the early 1980's.
Curated by Jerrold Turner, Evolution of Style provides a window into the moment these artists broke into new territory and affords us the opportunity to engage in a creative dialogue with them about their life and career.
Evolution of Style is generously sponsored by the following businesses:
Evolution of Style is generously sponsored by Olson Realty Inc. & Umpqua Bank